Snetterton Austin 7 only race, Sunday 31st July - only £125.00 entry
Entries now open: email Historic750formula@outlook.com for the entry form
*subject to 750 membership at £25.00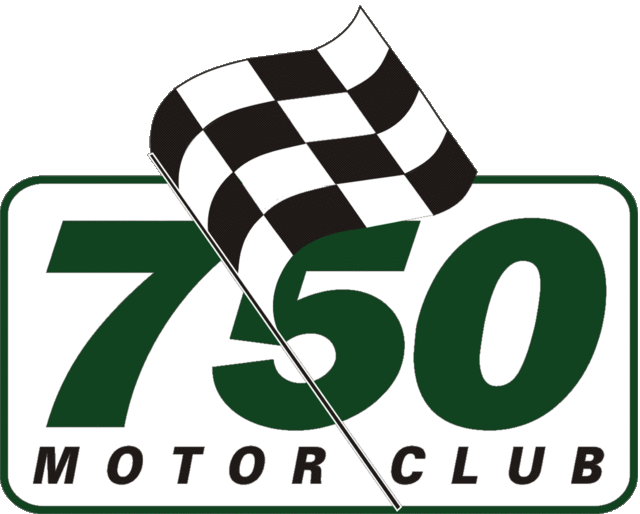 Austin 7 - Independent Suspension
Where did Austin7 Independent suspension start?
In 1933 a motor cycle tuner in Clapham cut an Austin 7 front axle in half and welded pivot points onto the ends to create independent front suspension for the little car. The results apparently were 'spectacular' and Leslie Ballamy's name will forever be associated with the 'Swing Axle' set up. His company, Nordec, developed and supplied LMB kits for Austin 7s, Ford 10s and then the mighty Allards with their Ford V8 engines.
Lotus Mk3 driven by Hazel Chapman
LMB Swing Axle independent suspension
Leslie was a founder member of the 750MC and his LMB style suspensions can still be found on many 750 Formula racers including David Whetton's Mouse and Colin Chapman developed the principal further on the 'unbeatable' Lotus Mk3.
So why was independent suspension considered so vital for Austin 7 competition Specials?
The Austin 7 design featured a rigid beam front axle with a transverse leaf spring - just like a Model T Ford. This coupled to a triangular 'A frame' chassis was simple, robust and cheap to manufacture.
In fact the early A7s did not have any shock absorbers at all which is not as mad as it might seem because a multileaf spring has a degree of damping built in due to the friction between the leaves. So, when friction dampers were eventually added they were something of an afterthought and definitely sub optimal in configuration. This was all fine for a 'mini' family saloon capable of 50mph max but definitely not for anything more sporty.
Austin 7 Competition Team Cars
The Austin factory competition team cars stuck to the rigid front axle and transverse leaf spring for their Trials cars; even their incomparable Twin Cam racers only modified it by adding a swivel to the tubular axle which reduced 'bump steer' issues when pushed hard.
Austin's arch rivals MG, on the other hand, came up with the R type to compete with the Twin Cam. This had a Y form backbone chassis and independent suspension with wishbones and torsion bars all round – which was a very bold move for 1935!
And so it proved to be as photos show all the R types with alarming front wheel angles when cornering. Even to this day modern restorations still suffer this challenging handling. Back in 1935 the only person to get the best out of the R Type was Doreen Evans, MGs favourite lady driver. This was a disaster for MG and clearly there was a lot to learn about 'going independent.'
Post war with the banked track of Brooklands closed forever, lots of ex RAF tracks become available and handling in corners on the flat took on more importance and once again Independent suspension was seen as the way to go for the more adventurous Special builders in the 1950s.
Bowdenex Suspension
​
Bill Williams had founded Cambridge Engineering in 1934 to build Austin 7 based Specials for road and racing. He also supplied a range of performance manifolds and cylinder heads. He was based in Cambridge Road, Kew, hence the name…. Bill also supplied the Bowdenex independent suspension manufactured for him by Bowden Engineering in Devon. This consisted of two transverse springs of two leaves each which effectively formed the top and bottom arms. Flame cut stub axles took the standard Austin king pin were mounted between two plates which doubled as spring shackles. Friction or telescopic dampers were then added.
This solution was far from perfect in two respects. There was little fore and aft location which meant that the Castor Angle was essentially uncontrolled. Also leaf springs are not rigid rods and under hard cornering the camber angle could change dramatically……..Adding trailing arms helped but added a lot of extra weight.
The Cowley Special demonstrating the lack of camber control of the Bowdenex suspension
Jem Marsh & Austin 7 Speedex





Jem Marsh ran the Speedex company in Luton competing directly with Cambridge and his independent suspension had rigid tubular lower arms with a stronger upper spring and was successful in 750 Formula racing as part of the Speedex kit cars.
Linda Price in her Speedex (Mallory Park 2019)
Both of these kits were available in two track widths. 3ft 4inch standard Austin and a 3ft 9inch extra wide. Of course, most Specials in the 1950s took advantage of the wider track and also added offset wheels with yet wider and wider tyres in the belief that this was the way to go. Austin Specials emerged with the most amazing proportions.
Meanwhile he 750MC Special Builders group still met regularly at Red Cow in Hammersmith and reports of these meetings started to trickle out in the pages of monthly Bulletin. Technical talks by designers with a real appreciation of 'Centres of Gravity', 'Slip Angles' and that most mysterious of concepts the 'Roll Centre', started to enter conversations. Holland Birkett had always been keen to understand the technology of performance and Colin Chapman, Arthur Mallock and Mike Pilbeam filled the blackboard with diagrams and figures. Much of this thinking was captured and published in the 750MC Special Builders Guide.
For example, Arthur was convinced that it was no use building a 750 formula car a 'pencil thin aerodynamic body' and then fitting it with wide wheels on a wide track. He argued that any advantage around the corners was immediately lost on the straights due to all the extra drag they created. It was the overall width of the car that really mattered to him and he then went off to the French Grand Prix in his U2 Mk2 and proved his point.
Arthur Mallock without shirt and Jack French in white shirt and slacks at Rheims
All the Austin 7 independent suspension modifications suffered from too much weight and on relatively narrow tyres the advantages could not compensate for this. Today most of the fastest Austin 7s in the Historic 750 Formula tend to be lightweight cars with rigid front axles, regardless of whether they are Ulster style or single seaters.
​
The later Class C cars with their much wider tyres are, of course, a totally different matter……..
Intuitive engineers like Jack French took these concepts and showed how the home made 750 Special could be very competitive for very little outlay. To demonstrate this he built probably the most famous Special of them all - Simplicity with modified Austin front suspension. Eventually, , driven by Arthur Mallock, Simplicity even managed to beat the sophisticated Lotus Mk3 – point proved!
L to R: Leslie Ballamy OF LMB, Tom Lush OF Allard and Jack French