Snetterton Austin 7 only race, Sunday 31st July - only £125.00 entry
Entries now open: email Historic750formula@outlook.com for the entry form
*subject to 750 membership at £25.00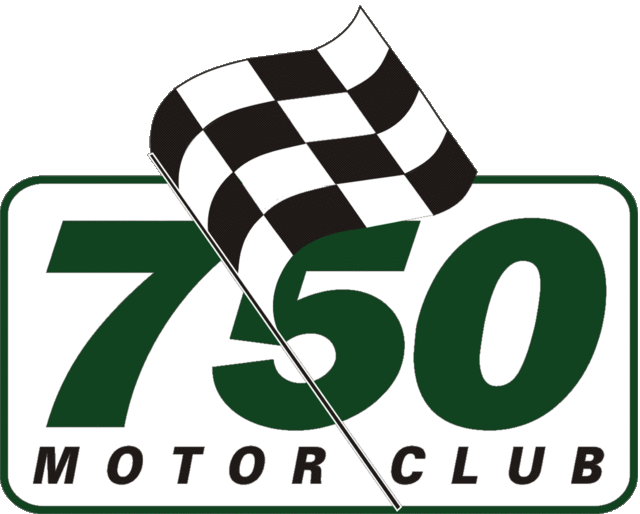 A father, son thing...
My interest in motorsport came from my architect father who had designed Charles and John Cooper's Surbition racing car factory. As a seven year old, I vividly remember him showing me the small stone memorial to his hero Mike Hawthorne on the Guildford bypass and the emotional effect it had on him as we stood there.
Dad also fancied himself as a rally driver though he left the professional driving to his niece Juliet Slatter who rallied with Pat Moss (Sterling's sister) and Sheila Van Damm in the works Sunbeam Talbots. So I suppose, it's in the blood.
Time to start racing
Fast forward to 1973 when a school-mate suggested that we buy an autocross car and join his next-door neighbour, Chris Elmes tearing up the Hertfordshire greensward against the likes of John Button (yes, father of master J.) in a Mini-Cooper powered NSU Prinz! Against the Button Autocavan VW and Hathaway Bros. BDA Escorts, we were hopelessly outclassed but it was a start.
Circuit Racing
Chris decided that circuit racing offered better value for money and a more even competition than autocross, building the 750F Maggot Mk3 for the 1975 season with me in charge of spanners and pushing to and from scrutineering. As a reward, I entered the second race at the Lydden Hill season finale where I qualified last, remaining last until chucking the car sideways into the chalk infield at Paddock Bend where I remained for the duration of the race. But I was hooked!!!
​
I continued 750F racing with modest success until 1978 when I went to work in the Far East returning in 1979. Then a mortgage and family put a stop to racing until that day in 2010.
Studying Motorsport
Meantime, master J Slatter had decided that a day off school at Banbury college "studying" motor mechanics was a sensible option to the classroom and RI homework. To his surprise I think, he enjoyed it and then successfully applied to Bicester Motorsport college and worked part-time at a local classic Porsche restorer. So, October 2010 Jack and I are at a friend's workshop in Wood Burcott – within earshot of Silverstone when we hear the sound of racing engines across the fields…
incident at Mallory.
JS: What's that noise?
TS: That'll be a race meeting at Silverstone circuit
JS: Can we go?
TS: Sure, what racing do you want to watch?
JS: Not watch, - do!
TS: (slightly shocked). What racing do you want to do?
JS: Durhhh… .. 750 racing of course!
Returning to 750MC 32 years later..
It had been 32 years since I'd sat in a racing car and was fairly unaware that Jack had made the association between his aged parent and motorsport. But he clearly had and we returned home to fire up the desk-top. Fate was certainly with us that day as the first ad that we came across was for Lyn Evans' Centaur which I had unsuccessfully tried to beat back in the 70's. The deal was struck and the promise made that we would try and re-gain the Centaur's reputation as a front-runner after the application of a little orange paint.
The first 750 race of 2011 was at Mallory Park...let's just say, success was not immediate. Reducing Lyn's full-race 750 engine to it's component parts at Cadwell did not help, though the subsequent re-build of my original Elmes 750 (conveniently stashed under a bench for 3½ decades) did have it's advantages as I'd then met John Gasking who videoed the bench test for posterity. Chris' engine enabled me to win the 2015 Silverstone race and take the lead at Snetterton until that too cried enough and the 850 route was the only sensible option.
Mercedes Benz F1
Later that year Jack completed his Diploma in Motorsport Engineering at Bicester and needed more of an employment challenge than the Porsche workshop could offer. Manor F1 in Banbury interviewed him then promptly went bust.
Success at last
Snetterton 2016 saw Jack take the Handicap race win against stern opposition in the shape of Jonny Sadler in his pre-war A7 saloon and old campaigner L. Thruston aboard his DNC.
2020 Our best year yet. 2 wins and a number of placings took me to runner-up to Christian Pedersen in the H750F Series and Jack to mechanic for Lewis Hamilton alongside his school-mate Tom. Not bad for a pensioner and a couple of lads from a village Comprehensive outside Banbury!
While his interview at Mercedes F1 High Performance Powertrains at Brixworth had been positive following his presentation of how to re-build a Reliant 750 engine – including the J. Gasking bench-test video! The interviewer's question "is your dad an engineer" was truthfully answered " no, he works for Wetherspoons"… The pub reference clearly swung it and Jack started at Brixworth in September 2015.