Snetterton Austin 7 only race, Sunday 31st July - only £125.00 entry
Entries now open: email Historic750formula@outlook.com for the entry form
*subject to 750 membership at £25.00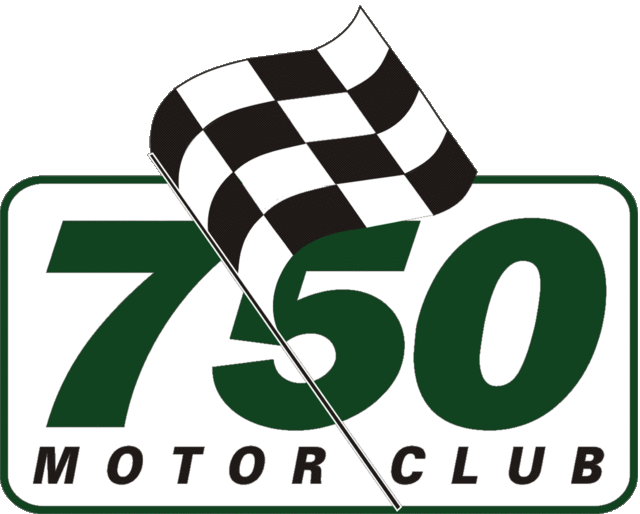 Gordon Murray's IGM T4 (750 Formula car)
Hear directly from Gordon Murray about the design and build of his 750 Formula car the IGM T4. Starts from 24 mins
History
​
Revolutionary designer Ian Gordon Murray, known for his association with Formula 1 and designer the McLaren F1 also designed a revolutionary 750 Formula car - IGM T4.
​
Designed in 1972 the IGM T4 was the first car ever built with the Gordon Murray designed Pull-rod suspension. Many think it was designed on the Brabham BT44, but no, it was designed on the IGM T4. When Murray was promoted to chief designer at Brabham he lifted the pull-rod design and fitted it to the Brabham race car.
​
The IGM T4 was never finished until 2019. Gordon bought the original chassis back from Paul Reynolds, who is now making a replica copy to race in 750 Formula. The replica chassis was shown at Race Retro 2018, in the early stages of it's build. In the meantime the Murray workshop have finished off the 1972 original.
​
Features
A replica IGM T4 is being built to race in 750 Formula
​
Achievements
IGM T4 was the first ever car designed with pull-rod suspension in 1972. The pull-rod design was later raced on the Brabham BT44 Formula 1 car
Paul Reynold' tells us about the revolutionary Gordon Murray IGM T4 and his progress with the replica build.
Team Sigma's Austin 7 Worden & Speedex 'Silverstone'
1/2
History
​
At a time when most people were racing Austin 7 Ulsters there started to be a new movement towards purpose built racing cars, built by racing car designers who were starting to form their own racing teams; this was oppose to other competitors who were simply Austin 7 enthusiasts.
​
Team Sigma comprised of Mike Featherstonehaugh, Tony Dixon, Harry Worral (Ford development engineer) and Tony Dixon. In 1958 they designed the FW Special which only had modest success. However the Mike Featherstonehaugh body was so good it was sold commercially as the Speedex 'Silverstone.'
​
In 1959 the Worden was built by Harry Worral and Tony Densham - both providing their names to the car. The Worden racing car was designed with one simple purpose, to win the 750 Formula Championship, taking home the renowned Goodacre Trophy. Which it duly did in 1960.
​
Features
Mike Featherstonehaugh was the designer of the Speedex Silverstone body which was a later commercial success
​
Achievements
A7 Worden won the 1960 Goodacre Trophy in the 'purpose built' A7 Worden racing car, moving away from the traditional Ulster design
1/1
History
​
Arthur Mallock was an iconic name and race car manufacturer in the 1950s, known for making motor racing accessible to the masses. His focus was the production of low cost, competitive racing cars. The first special he built would be an Austin 7 which set the path for numerous successful Mallock racing cars to follow.
​
In 1939 Arthur would play a pivotal role as a founder member in the 750MC, also writing numerous books and 750MC bulletins on special car building.
​
The Mallock U2 made it debut in 1958 at the Eight Clubs meeting, with such success that Arthur went on the sell the chassis in kit form. It was permitted to run in the F1172 with a restricted 997cc Ford engine until 1966.
​
Features
The original 750MC U2 was rebuilt in 2016 at Mallocks by Richard and Charlie Mallock. It had been modified to Mk6 Specification to accommodate the wider tyres used in Clubmans racing in the late 60s but has now been returned to the correct Mk4 set up. It is now as raced by David Wragg in the Oulton Park F3 Gold Cup race, in 1964 which was won by a certain Jackie Stewart in a Cooper BMC.
​
Achievements
Founding member of 750 Motor Club
Jerry Evershed's Supercharged Warren
1/1
History
​
'The Warren' is one of the most iconic 750 Formula cars made. Designer Jerry Evershed spotted a loop hole in the 1973 750 Formula regulations, allowing him to super-charge the Reliant 750 SV engine and the Warren was born.
​
It was driven by Robin Smyth and had instant championship success winning the Goodacre Trophy, before being banned for the 1974 season. Initially distinguished by extra-long front radius rods and a stack of four vertically-protruding exhaust pipes, it was The Warren's supercharged engine - mounted at the rear of the car - that made the biggest impact.
​
The car lay low for a number of years until 2017 when it was rebuilt live by father and son duo Ron and Kevin Welsh at Race Retro 2017 - watch the interview. It was this rebuild and following publicity which kick started the H750F Series relaunch, spearheading today's series success and record grid numbers.
​
Features
Rear mounted super-charged side-valve Reliant 750 engine. In 2020 the car was finally re-united with it's Championship winning Trophy.
​
Achievements
1973 Goodacre Trophy Winner, then banned for the 1974 season
Jack French's Austin 7 Simplicity
1/1
History
​
Jack French was one of the founding members of the 750 Motor Club who, together with Holland Birkett, drafted the original 750 Formula that promoted low cost motor racing for the 'impecunious enthusiast' on the disused aerodromes of 1949 (including RAF Silverstone).
Jack vigorously promoted the 750 Formula by building and regularly competing in 'Simplicity': an Austin 7 based Formula car built with the minimum of expenditure over 5 weeks of evenings and weekends.
​
The first race meeting was at Ibsley in Hampshire on April 18th 1953 when Steady Barker won in Simplicity and 1959 saw Jack French set a Vintage Class record at the VSCC Prescott Hill Climb with a run of 51.95 seconds, a record which stood until 1966
​
The Formula flourished and fostered the talents of many famous names who went on to create today's British Motorsport including Colin Chapman (Lotus F1), John Cooper (Cooper F1) and Bruce McLaren (McLaren F1
​
Jack French's garage has now been restored and can be visited at Atwell Motor Museum
​
Features
The car was assembled from readily available parts: a short chassis, three-piece rear axle, and a mildly tuned engine. To obtain greater overall performance the chassis was considerably lightened by drilling in excess of 250 holes ranging in size from ¼" to ¾".
​
Achievements
Jack French was a founder member of 750MC along with Holland Birkett
Bill & Nigel Cowley's Austin 7 Special, Mk1 & Mk3
1/2
History
​
The Cowley name has a long 750 Motor Club association, and the family are well known by many 750MC drivers. Grand father Bill Cowley passing on the racing passion to son - Nigel Cowley and grand son - Bill Cowley, who continues to race a Cowley built car today, the Mk4.
​
The Austin 7 Cowley Mk3 being one of the most interesting Austin 7 designs, with it's twin-spark ignition, rubber band front suspension and efficient aero design. The twin-spark cylinder head of course designed and made by Bill himself. The Mk3 fibreglass body famously made on the kitchen table.
​
Also to come out of the stables was the Cowley Special, originally built by 14-year-old Nigel Cowley with help from his Dad, 750 Formula racer Bill Cowley Snr. on a 1932 Austin 7 chassis. Later sprinted by retired Hurricane pilot, Jasper Partington, and then raced by the late John Gasking in H750F.
​
Bought from John by Jeanine Plain-Jones in 2013 and now raced by Hubby, Charlie, on the basis of "You break it, you fix it!"
​
Features
Fitted with period Bowdenex independent front suspension.
​
Achievements
Joint 1st in 750 Trophy Series 2016