Snetterton Austin 7 only race, Sunday 31st July - only £125.00 entry
Entries now open: email Historic750formula@outlook.com for the entry form
*subject to 750 membership at £25.00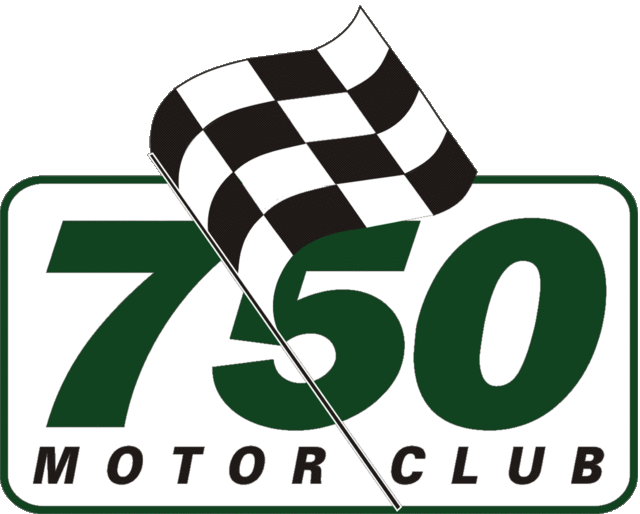 Austin Seven and Reliant Cars For Sale
2 Seater Austin 7 track car
​
· Chassis No. 254091, Chassis from 1936 Ruby
· Cambridge Engineering independent front suspension, lightened and widened by 5in. Hydraulic S.A's.
· Rear Suspension A7 springs, car lowered by hangers below axle, located with radius rods std. A7 torque tube and Panhard Rod. Modified friction S.A's. Hydraulic brakes.
· A7 box with rack and pinion used as track rod (pinion removed)

Engine & Gearbox
· Pheonix splash fed crank. Enlarged oil pump and inlet valves, modified inlet and exhaust manifolds
· 1 1/4in. SU carb. Ricardo type Al cylinder head. Full flow oil filter.
· Pistons +.080 in. std. A7 conrods. Flywheel lightened and balanced with crankshaft, Camshaft by Paul Bonefield.
· Crankcase modified from 3 bearing to 2 bearing
​
Body
· Self-built (entirely) from Al and Al/PVC laminate with welded steel bulkheads. Body stressed to stiffen chassis. Car weight 360kg.

Price £7,500
Jeffrey 3b H750F racing car
Jeffrey 3b H750F racing car 6
Jeffrey 3b 1970 (rebuilt for H750F)

- 850 engine completely rebuilt with control cam, bench run
- Gearbox stripped and rebuilt with new bearings by Klassic Transmissions
- Mamba (refurbished) wheels all round
- Spare 4.5 and 4.9 diffs
- New radiator (radtec)
- New vertical links, brakes, discs, bearings , hubs (4" PCD) etc
- Back axle rebuilt with 4.2 diff, new brakes and bearings, genuine mini-fin drums
- New Firow balanced Prop shaft
- AVO single adjustable dampers all round.
- New fire system fitted
- New Harness non-Hans
​
Needs - Completion of electrics, Throttle pedal installing (provided)
Bonnet and nose cone fasteners, Panels need riveting

Race car £5,000 no offers
Email for the full spec
Hague 750 race car for sale 2
Hague 750 race car for sale
Hague 750 race car for sale 2
1978 Hague & Trailer.

Fully restored H750F Hague, raced in 2019 once so just shakedown mileage. In excellent overall condition, but will require some small modifications to comply with current H750F regulations.

- Freshly rebuilt Dick Harvey 848cc engine built to H750F regulations including control camshaft , with fully baffled sump. Tested on a rolling road at 66hp.
- Standard rebuilt Reliant 4 speed and reverse gearbox, nearly new clutch plate.
- Custom made aluminium Radiator, swirl pot and catch tank by Alisport
- New CR65 Control tyres (used once)
- In date 6 point TRS Harness
- Ernie Frosts 750F Championship winning car in 85 and 86
- Chris Hague made small light cars that suit the reduced power of 750 Historic racing
- Custom made to measure trailer with electric winch for easy single handed loading and unloading.

Full Spec on Google Drive Folder

Race car £6,500
Trailer £1,000
Pigsty Mk11 Austin 7 for sale
Ian Grants Pigsty Austin 7 for sale
Pigsty Mk11 Austin 7 for sale 2
Austin 7 Pigsty MK11 - Jon Elsey - Brands Hatch 2018
Pigsty Mk11 Austin 7 for sale
Ian Grants Pigsty Austin 7 for sale
Pigsty Austin 7 racing car for sale (Class A)
​
Highly developed and well known Pigsty Austin 7, regular 750MC competitor with multiple race and series wins
​
Full race engine

Lightened flywheel

1 ½" SU carb

Race cam

Hydraulic brakes

Close ratio 4 speed gearbox

Quick release steering wheel

Bespoke aluminium radiator (new)

Multiple lap record holder

Has a current VSCC buff form
​
£24,500
JGS Mk7 Mallory Park 2021
JGS Mk7 Mallory Park 2021
JGS Mk7 Mallory Park 2021
JGS Mk7 (Class C)

The JGS MK7 (John Giles & Geoff Smith) was built in the early 80s for 750 Formula. It's recently undergone restoration, returning to track at Mallory Park 2021.

The car was surprisingly quick on it's return to track qualifying P7 and running in P4. A few niggles sadly forced retirement from both races.

- Fitted with rebuilt Reliant 850 engine running control camshaft
- Specification (new) CR65 tyres
- Inboard front suspension
- Rewired, new hoses, rod ends
As one of the smallest, lightest cars in class C it has the real potential to run in the top three just needing new belts, battery and extinguisher. We would suggest having the geometry set up properly and having a front stay fitted to the roll hoop.
​
£7,000
Pigsty Mk13
Latest Mk13 photo
Cadwell Park 2018 - Tim Myall Austin 7
Tim Myall racing his Pigsty Mk13 A7 at Cadwell Park 2018
Pigsty Mk13
Latest Mk13 photo
Pigsty Mk13 Austin 7 race car
​
Pigsty MK13 single seat race car with roll cage and fresh engine with some 5 races since build .
Built by Tim Myall for the Historic 750 Formula race series, and previously raced by Tim and his son. Last ran two weeks ago at Bicester Heritage test track.
​
Full Pigsty race engine (non-supercharged)
Period Don Parker trailer also available .
​
Offers around £14,500
​
Historic 750 Formula car for sale - Demon
Ex Paul Lawrence Demon (racekits Merlin) H750F Car
Historic 750 Formula car for sale - Demon 2
Historic 750 Formula car for sale - Demon 5
Historic 750 Formula car for sale - Demon
Ex Paul Lawrence Demon (racekits Merlin) H750F Car
Demon (Merlin) Reliant 850 race car (Class C)
​
The 'Demon' race car was a modified Racekits Merlin. The Merlin was designed by Martin Kemp at Racekits and then adapted by Paul Lawrence to it's current design. Paul raced it successfully for a number of years but has now joined racing retirement. The car is being sold by Roy Wetherall.
​
Competitive Reliant 850 race engine, with control camshaft

Weber carburettor with performance fabricated inlet/exhaust manifolds

Harnesses dated 2022

Spare Reliant 850 engine, with ancillaries & gearbox

Spare set of wheels, fitted with slick tyres

Spare 4.55 differential

Requires minor "Set-Up" work to complete.
​
£10,000
​
Austin 7 Monoposto Stewart Arklay 3
Austin 7 Monoposto Stewart Arklay
Austin 7 Monoposto Rear Buck Stewart Arklay 1
Austin 7 Monoposto Stewart Arklay 3
Monoposto Austin 7 race car
​
Twin 1 1/8 SUs with Phoenix crank

Austin 7 long wheel base chassis

Hydraulic brakes, on 15" wheels with as new tyres

Transverse leaf front spring and bowed beam axle, forged front chassis mounting

MSA Approved roll bar
Engine
1 1/2 inch pressure fed Pheonix crank, High pressure John Barlow oil pump, John Barlow CNC sandwich cylinder head (gas flowed), Ported with larges inlet valves, slipper pistons
Newman competition camshaft and a lightened flywheel and a hydraulically operated clutch.
Twin 1 1/8 SU's and single pipe exhaust but also comes with a large single SU and a 4 into one extractor exhaust.
​
Bodywork - Buck available to finish rear end
​
£18,000 (some finishing off work required)
DNC Mk3 - Gerry Fincham - Snetterton 2021
DNC Mk3 Snetterton Handicap Winner
Goldfinger DNC Mk3 (Class C)
**Ready to race, just add fuel**
​
850 engine with control camshaft, 50 psi oil pressure

David Newman inlet manifold with a large SU carburettor, very nice exhaust manifold,

Stripped and rebuilt the suspension, replaced rose joints bolts and fasteners etc,

Alloy bodied shock absorbers stripped and rebuilt and spring rates checked and a full set up and corner weighted for a 70kg driver.

Seat belts in date, Extinguisher in date, Hard wired fixed transponder

New Electric water pump, Custom alloy radiator, New alloy water pipes, Recent new gel battery

Brakes are fully refreshed and fitted with cockpit adjustable balance bar and very impressive they are too.

The car comes with the original set of 10" wheels and tyres currently running on Revolution 13"
Location: Suffolk / Essex border but happy to deliver

£7,500
Terrier Mark 2

Terrier mark 2 clubman's car was used in 1172, 1200, 1300 formula. This car is for road and race.

The car could run in Historic 750 formula or Clubmans with some work. The car has not been used for a number of years now and has been garaged and regularly started up

The car was designed by the Late, Len Terry. He was well known for designing formula one and sports cars.

This car was one of 15 that was ever built. I have owned this car for approximately 50 years.

The car was road registered in the 1980s and could compete in events.

I also have a 1172 (100e) mildly tuned engine with a 3 speed gearbox. The car bodywork was done by Williams and Pritchard.
Spares come with car include 2 differential's a set of steel wheels. A 105 engine, a 4 speed gearbox, twin SU carburettors.
​
£23,000